Do you have a LA Hair Do?
An Artist with Hair
Louisa is all about helping her community. She is a sponsor of many events throughout the Maryland area.  L A Hair supports the Catonsville Parade, along with many other events in Catonsville, and contributions to numerous local schools, and they are a sponsor of Women's Expo.  She helps with distribution of food items for homeless folks in the Baltimore area and recently supported the Academy of Couture Arts fashion show. Louisa is open for six days a week at L A Hair.  Her day off is Sunday, and yet, she is such a giving person that this Sunday she told me about how she was opening the shop for a group of girls going to a ballet recital.  She was going to prepare each of their hair for the recital.
To schedule an appointment at L A Hair with Louisa Meekins, please call her at 410-744-2151. L A Hair is located at: 6431 Frederick Road, Catonsville, MD 21228.  Email her at  Louisa@LAHairCatonsville.com.  You can also find L A Hair Baltimore on Facebook and on Google+
At the CCBC Women's Expo
Recently at the CCBC Women's Expo, my daughter, Hannah won the door prize. The first thing she was excited about was the gift certificate for L A Hair as she said,  "I must have a hair cut and Miss Louisa is cool." I had never visited L A Hair but like Hannah, I had heard many wonderful things about the shop and Louisa Meekins.  The appointment felt like a visit with a good friend.  Hannah and I left looking and feeling beautiful.
The entire experience was amazing which motivated me to connect with Louisa for an interview. When we sat down together, she discussed with me what makes her heart sing about L A Hair.  Since a young age she loved styling other people's hair.  As a child she had a doll to experiment on with various hair styles and artistic techniques.  It was a natural transition that she open and operate, L A Hair.  This inviting shop in Catonsville immediately gives you a relaxed feeling.  Louisa makes everyone around her laugh with her sparkling personality. She has been an icon on Frederick Road for 15 years.  She says, after all these years, she still loves it, "It is the people and helping them to feel and look good that makes every day."  One of the other clients was Justin, a regular customer, who said, "This is the best place in town."
Louisa has a talent with hair that makes her an 'artist'.  She also provides a variety of services at L A Hair.  Some of her many offerings are: Relaxing, Perms, Waxing, Highlights, Coloring, along with Professional make up services.  In addition, Louisa hosts wedding parties where she makes the entire bridal party look and feel beautiful and creates a memory with champagne and fun.  She also offers prom parties and has many special events with other merchants. Coming in June, she will team up with Miche Bags and Silpada Jewelry to host an event at L A Hair for her clients offering these products.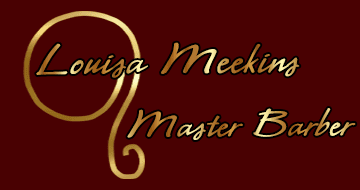 Hours
Mon, Wed, Thu, Fri 10:00 am - 7:00 pm
Tue - CLOSED
Sat - 8:00 am - 1:00 pm